New works cast regional eye on Italian cuisine - From the Bookshelf - books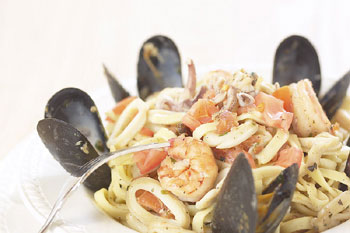 Because of the diversity of Italian cuisine, the food is, perhaps, best approached in terms of its regions. Two of the following books deal with the cooking of specific areas, while the third deals with country-style cooking in all of the regions.

FOODS OF NAPLES AND CAMPANIA, Giuliano Bugialli, 271 pages, New York: Stewart, Tabori & Chang, $50.

Bugialli, a native of Florence, Italy, is recognized as an authority on Italian cooking. He is the author of many books, including "Bugialli on Pasta."

In his current, well-illustrated book he turns his attention to Naples and the region of Campania, which surrounds it. Naples, Bugialli tells us, has a long history, and at one time it was second only to London as the largest European port. The influence of the English, French and Spanish, who at one time ruled the region, is echoed in the food.

What is surprising, he observes, is that despite so many influences, Neapolitan cuisine has a unique personality. The life of Naples is lived on the streets, and the street vendors play a role in the drama.

Bugialli presents more than 175 authentic recipes, which are grouped as vegetables, dried pasta and tomatoes, meat dishes, fish and shellfish, fried and boiled courses, mozzarella, and pastries and desserts. The dishes include artichoke casserole with potatoes that are sprinkled over the artichoke pieces; pasta with baked stuffed tomatoes, in which the stuffing contains garlic, parsley, Pecorino Romano cheese and bread crumbs; and stewed octopus, prepared with tomatoes, olives, garlic, parsley and basil in a casserole.

IN A ROMAN KITCHEN: Timeless Recipes from the Eternal City, Jo Bettoja, 308 pages, New York: Wiley, $34.95.

The author ran Lo Scaldavivande cooking school in Rome for more than 10 years and also wrote "Southern Italian Cooking."

What emerges in her latest book is a memorable portrait of the Roman table. Traditional Roman aphorisms are laced into the text along with the histories of many dishes, including Angelica's pasta with raisins and pine nuts, molded rice with mushrooms, and baked tuna.

RUSTICO: Regional Italian Country Cooking, Micol Negrin, 348 pages, New York: Clarkson Potter, $35.

Negrin, who teaches at the Institute of Culinary Education in New York, was born in Milan, Italy, and moved to New York in 1995.

Her first book is a delightful, illustrated collection of 200 recipes that represent the country cooking of Italy's 20 regions, with 10 recipes for each of them. Dishes such as baked trout in wine butter sauce, roasted turkey with pomegranate sauce and truffled lasagna show what Italian comfort food is all about.