Ethnic flavors ride a heat wave - includes related articles on research and marketing trends in the food industry - growing popularity of ethnic foods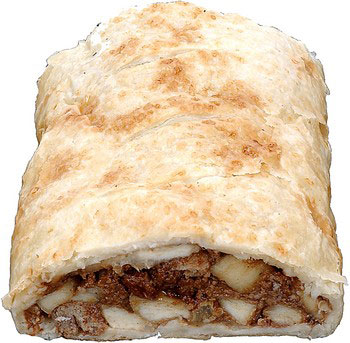 Food companies pour on ethnic flavors and ingredients to feed consumers' taste for fire and spice.

Flavor... the Spanish call it sabor and the French, saveur. The Germans say geschmack and the Italians, sapore. Whether you spell it "flavor" or "flavour," when it comes to today's array of ethnic flavor combinations, adventuresome eaters are in for a treat.

Restaurants set the pace when it comes to introducing and experimenting with ethnic cuisines. Both American- and foreign-based food companies have followed suit by introducing ethnic convenience foods.

With the influx of immigrants, increase in world travel, and increased availability of ethnic ingredients, Americans' tastes have shifted to more exotic flavor combinations. Here we examine ethnic flavors and cuisine from three perspectives: culinary trends, food industry insights, and basic flavor research.

Ethnic: The "In" Food Group

Growth in the ethnic food category is about 6-7% a year, compared to yearly overall food industry growth of about 5%, according to a 1999 Datamonitor report on ethnic foods. As of last year, the ethnic food category was 7% of the entire U.S. food industry, valued at $705 billion, according to the report.

The approach to ethnic cuisine has drastically changed over the years. "In the past, ethnic was denigrated as lower class - people were labeled as 'chili eaters,' or 'garlic eaters,' and so on," says Elisabeth Rozin, a Havertown, Penn.-based food historian and author of several cookbooks on ethnic foods, ingredients and flavors. "After we learned that the traditional high-fat, meat-based American diet was bad for us, we began to reexamine ethnic foods. Now chili peppers, spices, legumes, garlic, and grains are viewed as healthful."

Ingredients used in many ethnic cuisines, such as ginger, lemongrass, exotic mushrooms, quinoa, couscous, chipotle chilies, and infused/olive oils, appear on the National Restaurant Association's (NRA) "hot" list, according to their "What's Hot...What's Not" Survey for 1998.

Over the past decade, flavor and seasoning companies have seen increased demand for ethnic ingredients. Many offer "ethnic" flavor and seasoning lines. Various trends have emerged as a result of the ethnic boom:

* Increasing heat levels. Since 1980, Americans' consumption of chili peppers has doubled to almost six pounds per capita, according to the USDA's Economic Research Service. Also, red pepper usage has nearly tripled over the last two decades, according to the American Spice Trade Association.

"More of our customers are asking for increased heat intensity when it comes to the heat sensations from the capsicums - the threshold is moving up the heat scale," says Donna Immel, R&D director for an ingredient supplier.

"Hot and spicy foods are exciting and stimulating," says Barry Green, Ph.D., who researches capsicum compounds at Yale University (see sidebar). Green confides that he and his wife add hot sauce to their spaghetti sauce to perk it up. Several spaghetti sauce manufacturers have added red pepper to their blends, as well as increased garlic levels to meet consumer demands for more flavorful versions.

* Greater authenticity. The word "authentic" is evident in various flavor and seasoning lines. "We have seen the growth in popularity of authentic ethnic foods, but it takes time to gain acceptance by Americans," says Immel. "People are not asking for Mexican flavors anymore, they are identifying regions such as Yucatan, Jalisco, etc.," she adds.

"We don't compromise on [authentic] taste at all," says Swati Elavia, Ph.D., R.D., president of Essence of India Inc., Edina, Minn. Elavia, who is a former nutritionist with General Mills, started a line of Indian foods three years ago. Products include chutneys, spice blends and sauces. "I have decreased the heat levels slightly in my product line in order to gain wider appeal," she says.

* Increased flavor impact. Americans are craving more and more flavor. "I think people are becoming more conscious of flavor - they want food that really tastes good," says Rafael Toro, director of public relations for Goya Foods, Secaucus, N.J.

Chili pepper has become the single most widely used spice in the world, except for salt, says Rozin. Consumers today are more aware of the various types of chili peppers, which add heat and flavor, due to their increasing availability at supermarkets. "We have extensively profiled the flavor and heat levels of different varieties of chili peppers and combined them in unique ways for blends that appeal to all segments of the food industry," says Chris Carr, senior marketing director for the same ingredient supplier. (See page 46.)

* Background spice notes. Many flavors are borrowed from ethnic cuisines and used as background flavors to form interesting combinations. "We are seeing higher usage of ginger, which is being driven by the Asian influence," says Immel. "Adding subtle ginger notes to non-Asian foods can add intrigue. Building on the popularity of honey mustard blends, honey ginger flavors work well in glazes, for instance," she says. Several foodservice companies have added subtle ginger notes to chicken glazes and rubs.

* Fusion flavors. Fusion cuisine, combining the ingredients or cooking techniques of two or more cultures, has evolved throughout history. Chefs fueled the fusion boom with their exotic combinations, some of which are starting to emerge at the retail level.

"I have seen some restaurants that offer French-Italian-Turkish-Austrian combinations, also Belgium-Japanese-Moroccan-Indian, Korean-Brazilian-Jamaican, and even French-Indian," says Jeffery Cousminer, president of the Research Chefs Association and laboratory manager for a flavor supplier.

"Caribbean cooking is the essence of fusion style," says Cousminer. "The islands were settled first by the Spanish, then the Dutch, French, British, and Danish - each bringing the flavors of their own kitchens. Africans, Indians, and Chinese who worked as slaves, also added their own culinary flair."

Caribbean flavors include allspice, nutmeg, lime, thyme, ginger, chilies, and tropical fruits. Although these are basic ingredients, they are combined in unusual ways. For example, in Grenada, known for its nutmeg supply, nutmeg is combined with garlic, ginger, scallions, and herbs in sauces and salsas. A popular Cayman Islands dessert uses fiery hot Scotch bonnet peppers in chocolate cake.

Mexican/Caribbean profiles are becoming very popular, adds Immel.

"We also create our own fusion blends by taking Caribbean spices and mixing them with traditional American BBQ spices for an interesting flavor combination," she adds.

"Latino and Nuevo Latino is the latest fusion combination - it's very sexy," says Rozin. "In Florida they call it Floribbean - a blend of cuisines from Florida and the Caribbean." How does "sugar cane tuna" sound? You can taste this popular Nuevo Latino item at Chef Douglas Rodriguez' restaurant, Patria, in New York City. It is a "coconut glazed tuna with malanga puree, chayote and dried shrimp salsa," according to the menu. Now that's sexy!

* Greater interest in fresh fruit flavors. Now that tropical fruits and vegetables are becoming commonplace in produce aisles, consumers are developing a taste for them, and looking for their flavors in prepared foods and beverages.

"Fruit flavors are big in all food and beverage categories, but they've got to be fresh-tasting," says Immel. Mango is one of the hottest flavors in a variety of products. "Combining unique blends of spices, fruit pieces, and savory components brings excitement to meat products, especially light-flavored meats like pork and chicken," says Carr. Companies are offering premarinated meats with added fruit flavors such as apricot, mango, apple and raspberry.

* Seasonings for health. The public now equates ethnic foods, spices and seasonings with healthy eating. "The more people rely on plant foods - starches, grains, etc. - the more they use seasoning. Conversely, the more they eat animal foods and animal fat, the less they use seasonings," says Rozin. Many spices, such as chili peppers, garlic, ginger, cloves, and others, have been touted for their health benefits.

* A Latino boom. Many companies are targeting Hispanics, and for good reason. By the year 2005, Hispanics will surpass blacks as the nation's largest minority group, according to U.S. Census Bureau projections. Also, the U.S. is now the fifth largest Spanish-speaking country in the world.

In addition, buying power has been increasing among ethnic consumers, who spend almost $1 trillion in the U.S. annually, according to Datamonitor. Hispanic Americans' estimated spending power in 1998 was $350 billion, compared to $470 billion for African Americans and $110 billion for Asian Americans, for a total of $930 billion.