Flavors, part 2, sweeteners and salts - includes related articles on an evaluation of the foodservice industry, Maillard reaction kinetics, NutraSweet Kelco Co's NutraSweet 2000, Givaudan Roure Flavors, extending the shelf life of cut apples and a method for measuring fat - IFT Food Expo Report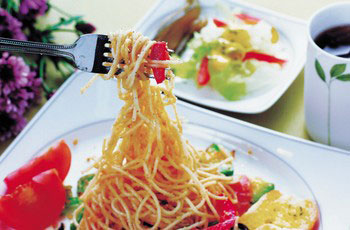 Formulation Assistance for flavor selection and use is provided by sheets that detail the name, form, usage level, fat and moisture content, description and application for specific categories of flavors. Sheets on butter, Italian cheese, Mexican and microwave popcorn flavors are available among others. The company's line of Colormax natural colorings includes a new acid-stable cochineal extract.

Chr. Hansen Inc.

New Single Flavor Systems that taste like traditional confections and desserts were showcased in soft serve ice cream. Caramel Nut Cluster Flavor #5461, is a water soluble liquid and Apple Pie #3077 is a water and oil dispersible emulsion. Also shown was a popcorn topically coated with the combined butter and cheese flavors of Butter Flavor #1320, N&A Butter Flavor #4425, and "Industry Standard" N&A Cheese Flavor #1200 (the basis for the first concentrated cheese flavors ever). These powders were dry-blended with Natural Cheese Flavored Powder Chedlong #1.

Taking a Total Systems Approach to assist clients in developing new products and improving old ones, Quest International offers an extensive line of products ranging from natural flavors to shelf life extenders to fat replacement systems. Quest provides flavorings and stabilizers to the dairy, confectionery, bakery, savory, beverage and nutrition industries.

Quest International.

Innovative Technologies, flavors and stabilizers highlight new products featured by David Michael. Goriller Vaniller Chillers, ice cream sandwich treats made with their new, intensified Gorilla Vanilla flavoring, join Monkey Bars (high-protein chocolate-covered banana flavored bars) and Jungle Coolers beverages: Punky Monkey Punch, Orangutango Mango, Jammin' Jungle Juice, and Crantastic Apey Grapey, all vitamin-fortified.

David Michael and Co. Inc.

All-Natural in 50+ Countries, Wild Flavors Inc., a division of the Wild Group, now produces a huge variety of ingredients for all segments of the food industry. With consumer demand for natural, healthy ingredients and clean labels, Wild, an innovator, in the field of health drinks, stands in a unique position as a provider of natural fruit-based flavors and colors. A presence in 50 countries, Wild is committed to quality production standards as well as to environmental ones.

Wild Flavors Inc.

Vacuum Evaporated, Solar and Rock salt are part of the complete line of salt and specialty salt products which also include "All Natural California Sea Salt." Standard and High Purity evaporated products include granulated, blending, flake and flour among others.

Cargill Salt Products.

Polyols Can be used in low-calorie, reduced-fat and sugar-free products because of their sweet taste and reduced calorie level. A full range of liquid and crystalline polyols are manufactured and marketed by SPI Polyols Inc.

SPI Polyols Inc.

An Incredible Lite-Ness of Being was evident among lines of autograph seekers pursing the mark of Gaylord Perry, San Francisco Giants Hall of Fame pitcher. Sunett[R] brand high-intensity Multi-Sweetener Concept was on display in a wide range of soft drinks, desserts, confections and other products from the U.S. and around the world. "Our blends offer no aftertaste, extended shelf life, and significant cost advantages for our clients," explained Anke Derieth, marketing specialist.

Hoechst Food Ingredients.

Chocolates with Peanut Butter Centers at Domino Specialty Ingredients featured Qwik-Flo[R] peanut butter granules in the centers. Qwik-Flo co-crystalization technology converts even hard-to-handle liquids into free-flowing, soluble and dispersible dry ingredients. In addition to peanut butter, the technology has been applied to honey, maple, raspberry, apple and molasses. Fat-free snack seasoning adhesion is possible with Kwik-Stik[R] adhesive based on sucrose and. other ingredients. Envision flavor and texture modifier combines sugar with a flavoring agent that reduces the sweetness of sugar. It allows products to benefit from the functional capacities of sugar while controlling the sweetness.

Domino Specialty Ingredients.

Salt for Every Purpose was available at the Morton booth. Twenty different commercial food products were featured that were formulated using Morton Lite Salt[R], a blend of sodium- and potassium chlorides that, combined, yield a 2550% reduction in sodium content without compromising salt intensity. Starflake Dendritic Salt[R], designed with a high surface area, and Morton Culinox 999[R] purified vacuum salt were also featured.

Morton Salt.

A Variety of Food Ingredients is offered by Kerry Ingredients. Cheese powders, dairy blends and snack seasonings are available for specialty products. Batters, breadings and marinades are supplied for coatings and flavorings. For dairy food processors, specialty proteins, dairy flavors and fat replacement systems are available.

Kerry Ingredients.

From Allspice to Yogurt, Virginia Dare's flavor products display an unusually diverse range of natural and artificial flavors. One of America's oldest fine flavor manufacturers, the company serves a wide variety of industries such as bakery, candy and snack production and pharmaceuticals and toiletries. Custom flavors for specific formulations can be produced as required by clients.

Virginia Dare.

A Tropical Drink made with draganfruit, a fruit from Southeast Asia, was refreshingly different. Draganfruit flavor could also be used in frozen desserts like ice cream or sorbet. Savory sauces received a new touch with fruit top-notes: Duck sauce with sweet purple plum, and barbecue sauce with pineapple.

Comax Manufacturing Corp.

Natural and Artificial Flavors in brownies, dips, and beverages were exhibited by Alex Fries. Many positive comments were made, in particular, for an ice cream with a Horchata Flavor #071-0092 powder and slush drinks with 0.22% levels of a natural Anise Spice Flavor WONF #072-00025 or a natural Citrus Floral Blend Flavor WONF #053-00446.

Alex Fries.

Red Wine gives a richness and subtle flavor to sauces. Red pasta sauces incorporate burgundy or Chianti for gourmet flavor. Marsala or Madeira-flavored sauces give identity to chicken or other meat dishes. Natural wines of many types are denatured with salt, or with garlic onion, pepper or soy sauce. Chablis, burgundy and sherry are also available as powdered flavors.

Monarch Wine Co. of Georgia.

Botanical Extracts as well as flavors gave interest to passion fruit punch at Ottens Flavors. In addition to banana and coconut flavors the botanical mix included extractives of guarana seed, damiana herb, gingko biloba leaf and kava root. Other offerings included pesto seasoned sun-dried tomato bagel crisps, and chocolate chip cookies featuring encapsulated butter flavor, encapsulated vanilla flavor and MagnaCap[TM] creamy vanilla flavor.

Ottens Flavors.

High Purity Ingredients for food processing are available through Ashland Chemical Co. These include erythorbate sorbitol and caffeine. Also available are a full line of gums, acidulants, antioxidants, flavor enhancers and more.

Ashland Chemical Co.

Gluconic Acid Derivatives used in the food industry were featured at Glucona America. Glucono-deltalacotne is used as a food acidulant. Mineral gluconates and gluconal CAL are also produced.

Glucona America.

Sun-Ripened[TM] Flavor Systems offer a new dimension in taste profile; heat stable and water soluble, they contain no alcohol or propylene glycol. The SunRipened Natural Fruit Flavor System is ideal for beverages and dairy applications, while the Sun-Ripened Nature-Identical Flavor System is used in confectionery.

Blue Pacific Flavors and Fragrances Inc.

Sour Cream Buds concentrate is a creamy white powdered form of natural sour cream flavor. Made by encapsulating the fatty acids from fresh cream, one lb. yields the flavor strength of about 80 lbs. of sour cream. It adds richness and mouthfeel to toppings, icings frozen desserts, dessert mixes, sauces, soups, dips, dressings and other foods.

Cumberland Packing Corp.

RELATED ARTICLE: Session 24: Foodservice In Flux

Change ... constant change. And profound uncertainty. That's the state of the foodservice industry at present.

Make no mistake: Foodservice prosperity is there for the taking. But in the estimation of Frank Belatti, chairman and CEO of AFC Enterprises, a national foodservice chain, it's a slippery slope. "There is no brand that is safe no matter how large, and no technology that will keep you in the game for a long time anymore. It is impossible to keep up with everything that is going on," said Belatti.

This is the foodservice industry's challenge: Satisfy a more fickle, confused, less patient and less loyal consumer. Their behavior is unpredictable. They demand convenience, variety, quality, entertainment, value, freshness and nutrition - all at the same time.