Food Whole wheat pasta and wine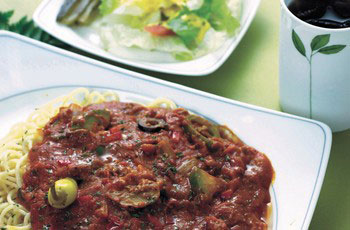 Byline: The Food Section
A chat with the Food section staff is a chance for you to ask questions, offer suggestions and share information with other cooks and food lovers. It is a forum for discussion of food trends, ingredients, menus, gadgets and anything else food-related.
Each chat, we will focus on topics from the day's Food section . Do you have a question about a particular recipe or a food-related anecdote to share? Food talk is sizzling every Wednesday at 1 p.m. ET.
The transcript follows.
Candy: Welcome chatters! We're feeling particularly full today after testing all those whole wheat pastas and homemade sauces. So what do you think of "brown spaghetti" (as the kids call it)? If it's not high on your list, what's the best way you've found to add more grains and fiber to your diet? On another subject--anyone try the silicone bakeware that Walter wrote about in today's section? Like it? Loathe it? Tell us! We're giving away a new Italian cookbook and the big, fat new Woman's Day cookbook for the best pasta or whole grain tips we get. For advice on cookware, silicone or otherwise, we have..."The Cookware Cookbook"!
The whole staff is here today, so here we go...Pasta question: I don't mind the flavor of whole wheat pasta, but I don't have the time to make a long, complicated sauce. I've been using a bottled cream sauce with my ww penne, but any other ideas for an easy sauce that would taste good with it?
Candy: Glad you like the ww pasta, although the high fat content of cream sauce would seem to negate some of the benefits of all that fiber. You don't have to give up the cream, but you might consider a lower-fat sauce with high-flavor. One of the dietitians said when she was in Italy, she had ww pasta with a sauce made from olive oil, garlic and sauteed broccoli rabe, which has a peppery flavor that goes well with the strong wheat. Look for a spicy puttanesca sauce or arrabbiata (which you can find bottled) to have with your whole wheat pasta.
_______________________
Arlington, Va.: Hi guys. Love the chat--it's always interesting and informative. I have had a devil of a time finding a butcher in the area. Can you or any of the other chatters point me to a good, traditional butcher where I can consistently buy high quality cuts of a wide range of meats? I'd prefer one in the Northern Virginia area, but I'd settle for anywhere at this point.
Thanks!
Walter: The first place that comes to mind is Partlow's Market in Ashburn (703-729-0333).Then there is Home Farm in Middleburg (540-687-8882). When you go for goat and cinnamon-flavored lamb sausages head to Lebanese Butcher in Falls Church (703-533-2903).
_______________________
Oak Hill, Va.: I'm submitting early because of work. I want to increase the fiber in my son's diet (he's 14), but he's a really picky eater. After reading today's taste test, what brand do you think I should buy? None sound too promising.
Candy: Hi Oak Hill. I would recommend trying the Barilla Plus for picky eaters. It has 7 grams of fiber, like the whole wheat varieties, but it's light in color and doesn't have a strong flavor (although the texture is a little different from regular pasta). My picky daughter likes it--I bet your son will too.
_______________________
Grains--today's oat bran?: Hi Foodies. Call me cynical, but all this talk about whole-grain this and multi-grain that smacks of the 1980s oat bran craze. Do you really think this is going to last? I mean, whole grain cookies? Pul-eez.
Candy: I love you cynics. You make things interesting. Yes, the whole grain fad does smack of oat bran-itis. The problem is that a particular food gets a lot of attention, the food industry--trying to cash in on the interest--puts it in a lot of things, and then we lose interest or the new foods taste bad or some other New Big Thing comes along. Oat bran is good for you. So are whole grains. They provide micro-nutrients and fiber--both of which are lacking in most American diets. Try to include a variety of high-fiber foods in your diet. If you don't like whole wheat pasta, try the whole-grain cereals instead. Or whole grain bread. Or other grains like quinoa or oatmeal.
_______________________
Capital Heights, Md.: When baking is it true that you should not put in any extract until the last minute to keep the flavor from vanishing from the dish.
Bonnie: I'm gonna take a shot at interpreting your question a bit, so pls. let me know if I'm way off base. If you're baking pie or tarts that call for a cooked cream filling or perhaps a sauce, then you'd want to put vanilla in right at the end, or when the stuff's off the heat, because the vanilla's alcohol content (and maybe some of its flavor?) might evaporate. Otherwise, we've made dozens of cake/cookie recipes in which the vanilla's added around the time of eggs and liquids before the dry ingredients are mixed in.
_______________________
Washington, D.C. : I received an email announcing that the Congressional Wine Caucus is holding a charity wine auction on October 5. Have you heard about this? Do you know if they will have any good wines on the auction block?
Judith: Don't know details, but it's mentioned on their web site. Try looking for additional information there: http://www.house.gov/radanovich/wine/. You could also phone the office of one of the congressman and ask to speak with the person working on the wine caucus.
_______________________
Fairfax, Va.: Thanks for the articles about sauces and whole-wheat pasta. My question is about jarred tomato sauces. They are often very watery, and I'm wondering if there is a way to thicken them. Is it a function of heating them at a higher or lower temperature? I've never been able to figure out what accounts for some being more watery than others.
Judith: Don't add anything! Just cook them down before adding them to the pasta. Watch carefully to see when they reach the consistency you want.
_______________________
Harlingen, Tex.:
On whole-wheat pastas:
Attracted by the fiber content, we've tried them on and off over the years and have been discouraged by their close resemblance to reprocessed cardboard.
However, we've recently discovered the Ronzoni line, which is actually quite good -- that's what we use these days in preference to white noodles.
Thanks for the sauce recipes.
Candy: Hey Harlingen. Glad you could join us. Personally, I really didn't like the Ronzoni line at all, but if you did, that's the best one for you. I'd also suggest you try the Barilla Plus--it has the fiber but without that cardboardy taste.
Judith: At the risk of dashing your hopes of increasing fiber intake by eating whole wheat pasta, let me point out that the only way to do that is to eat an enormous amount of it, which would defeat the purpose by adding lots of calories. And remember, ordinary, everyday white pasta is not a bad thing--Italians have survived quite happily eating it. And many studies have shown that your body processes pasta much more slowly than other starches like bread, potatoes and rice, which is a good thing. It's all, sad to say, a matter of portion control.
Noviceland: Hey there,
I've got a birthday coming up next weekend, and I know my mother-in-law is going to start asking me what I want soon. (I know, what a problem to have, right?) Money is tight for her right now, but I know she'll insist on SOMETHING despite my protests. I'm really just striking out as a cook and don't have much equipment beyond some bare essentials (frying pan, a few aluminum pots). What would you ladies recommend I suggest to her that could be found for, say, under $20?
Thanks; you guys are the best!
Walter: How about a trio of kitchen essentials that won't break the bank. Every cook should have a quality paring knife, vegetable peeler, measuring cups, tongs, wooden lemon reemer, wooden spoons and a silicone spatula.
Candy: Hi Novice. My brother is also just starting to outfit his kitchen and I've been sending him some inexpensive but needed things. How about either cutting boards or those flexible cutting mats? She could get you two--one for meat only, the other for vegetables (two different colors, of course). You might also check today's page 3 of the section for some cool things--we loved the little scoops (fab for cookie dough balls) and the potato masher is amazing.
Rochester, N.Y.: I have a question about cooking porcini. I've tried this several times now, mostly with porcini but once with another bolete sold in Wegmans here, and there's always been an initial noxious smell produced from the mushrooms (not from garlic, wine, or herbs).
I wonder if this is normal or if there is a way to cook them so this does not happen?