Italian cuisine: much more than the sum of its regional parts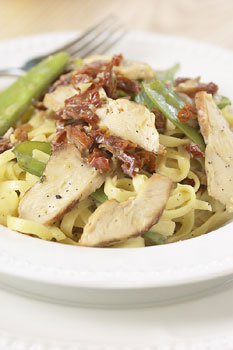 Because Italian cuisine is composed of so many dishes, it is best delineated regionally. The following cookbooks throw new light on three of those regions.

THE DA FIORE COOKBOOK,

Damiano Martin, 252 pages, New York: HarperCollins, $34.95. Author Martin is the son of restaurateurs Mara and Maurizio Martin, who opened Osteria da Fiore in Venice, Italy, in 1978. It since has become a destination for world travelers.

The cookbook is intended to show the variety of the food the restaurant offers, and it is useful in providing a sampling of the dishes of the Veneto, where Venice is located. It is one of the most geographically diverse and agriculturally affluent regions of the country. And, as the authors explain, the region has the most delicate cookery in all of Italy.

The 90 recipes offered are arranged in five courses: The first three are antipasti, such as sauteed baby red mullet with blood orange segments; first courses, such as Venetian black squid ink risotto; and soups, like bean with clams. The fourth section showcases second courses, including fried soft-shell crabs on arugula and orange salad, and the last course is sweets, such as tiramisu Venetian style, which features hazelnut cookies soaked in sweet vermouth.

The recipes are based on simple techniques and are enhanced by the many four-color photographs that accompany them.

THE HEART OF SICILY,

Anna Tasca Lanza, 256 pages, Woodbury, Conn., Ici La Press, $40.

Lanza is the founder of The World of Regaleali, a cooking school at her family's estate in Sicily.

In this well-illustrated cookbook, her first, Lanza shares her knowledge of her native cuisine and the produce, meats and seafood that are used widely in the region. The book champions Lanza's philosophy that seasonal, fresh ingredients define the food.

The author groups approximately 100 dishes according to the four seasons of the year. The recipes for such specialties as spaghetti with mussels, macaroni timbales, and little squid with dried mushrooms and Swiss chard have been passed down from generation to generation.

FOOD AND MEMORIES OF ABRUZZO, Anna Theresa Callen, 459 pages, Hoboken, N.J.: Wiley, $19.95.

The Italian region of Abruzzo, where the author lives during part of the year, still is virtually undiscovered by Americans.

In this cookbook, her fifth, Callen presents 200 recipes that feature traditional foods of the region and adapts each dish for today's health-conscious eater. Chapters, covering topics from appetizers to desserts, offer such treats as roast stuffed lamb shepherd's style, lasagna in broth Luciano style, and octopus in purgatory. There also are many black-and-white photos and recollections of life in Abruzzo.