Italian organic products ride popularity wave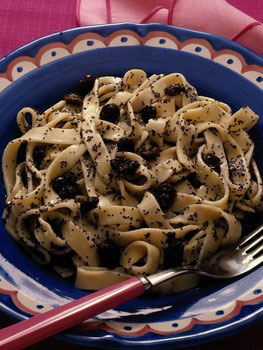 FAIRFIELD, Iowa-Riding the crest of three waves-organic, Italian and gourmet-has buoyed the business at Purely Organic, an importer and distributor of organic Italian products based here.

Owner Carl Jorgensen, who runs the business with his Italian-American wife, Camille, said twice-yearly trips to Italy allow him to "visit a producer and walk the land.

"We don't add a product until we get to know the people as artisans," he said.

The continuing conversion of Italian farms into organic ones has not only saved the small family farms there, but given rise to a whole new market for products.

In 1992, said Jorgensen, there were about 700 organic farms in Italy-now there are about 8,000.

Purely Organic supplies are variety of small food chains, independent stores and natural markets, he said, with Whole Foods accounting for about40 percent of their business.

"We don't sell to supermarket chains," he noted, in part because of the high-end nature of the products, but also because their producers couldn't handle the volume. "We buy only from single, small producers," he explained.

Among the organic Italian products that have done well, said Jorgensen, are marzipan from Sicily-the company's best seller; olive oils; pistachio cream, which was a Fancy Food Show winner in 2003; rose syrup from Tuscany; and Piemonte-style vegetable spreads.

Vinegars, said Jorgensen, are a competitive category, so Purely Organic seeks out ones that are different from what typically is presented on store shelves. For example, he said, many balsamics are thin and tart, so they focused on aged versions from Modena that are thicker and sweeter.

Also from Modena is a line of grape juice made from pressed grapes that are cooked over a wood fire to concentrate the flavor and consistency, he said. The same producer makes a grape syrup and a grape vinegar made from five types of grapes.

Among his newest items, said Jorgensen, are dolce nocciola, which are organic hazelnuts in millefiori honey cream; and carnaroli rice, which can be used for risotto. He also now offers a line of risotto mixes, featuring organic herbs and vegetables.

Jorgensen said although the company eggs come from either Sardinian mullet or tuna, he said.

But food isn't the only focus for stores when it comes to Italian products. Housewares and tabletop items from Italy are well presented at A Southern Season, according to House and Home Buyer Willard Doxey.

With a 1,200-square-footstore-within-a-store, A Southern Season is the largest single retailer of Vietri, a line of imported Italian dinnerware. By being the first in the Villa Vietri program, explained Doxey, they are able to exclusives or first rights to some new Vietri products.

Also offered within the department, said Doxey, is Bugatti stainless flatware, houseware and kitchenware items. The Bugatti line, he said, is the epitomy of Italian design-"very functional, but very high design. Bugatti is very fashion forward."

To help make the most of their Italian specialities, the retailers interviewed by Gourmet News said they provide a variety of demos, tastings and promotions to introduce new and existing items to their clientele.

In February, A Southern Season celebrates female business owners with its Festa delle Donne. Although not all the featured women are Italian producers, many of the products fall into that category, Tallcott said. Italian specialties are also highlighted throughout the year at the daily demos conducted at the store, he said.

"We have three demos, 365 days a year," he said, "and with Italian products being as big as they are, we do a lot of demos."

Italian specialties, such as olive oil and vinegar, are a draw as well in the store's June sale.

Doxey said Italian kitchenware and dinnerware items also make their way into A Southern Seasons' demos, cooking school classes and even as display pieces in the deli department.

Pastaworks'Wehrli said active and passive demos take place each weekend and often feature Italian cheese, preserves or pastas.

Loyal customers at A.G. Ferrari Foods, along with members of the local media, are invited to vendor dinners where specialty products are featured in different courses. Guglielmi said one such dinner featured the products of the Lombardi region, including rice, cheese and olive oil. Another dinner held in conjunction with a caper producer highlighted capers and caper sauces; while Grana Padano was the focus of a five-course dinner.

Cooking classes conductedby Guglielmi at local cooking schools and at Sur La Table have further strengthened the Italian foods message, he said. "We talk about the differences between what people believe the product is and the reality of it," he said.

Guglielmi said customers are often confused about certain products, such as balsamic vinegar, which can be sold as a 25-year-old aged product at a high price, or as a simple condiment for a few dollars. "There's a difference between an aged balsamic and one made yesterday," he said.

A.G. Ferrari also promotes its Italian products via its web site and a holiday catalog. The catalog, which is in its third year of existence, is sent to customers in October and November, said Guglielmi. The web site, he noted, has really taken off this year, with customers not only ordering gifts, but also using the site to stock up on basics such as pasta, sauces, wine vinegar and olive oil.