Rainbow Green Live-Food Cuisine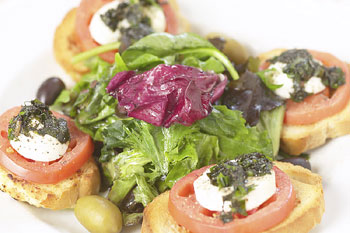 Dr. Cousens insists that raw eating is far from dull. Rainbow Green Live-Food Cuisine features more than 250 recipes that have been tested and perfected by chefs at the card located in his Tree of Life Rejuvenation Center in Patagonia, Arizona. Dr. Cousens is a holistic medical doctor and personally consumes live-food cuisine.

While reading through this book, I couldn't help but think that one really needs to have time to prepare many of the dishes. That's not necessarily a bad thing; however, as an extremely busy working morn, I personally would be a bit overwhelmed using this book. Nevertheless, the dishes all look quite interesting; if you have the time and are willing to invest in a food processor, a Champion juicer, and a dehydrator, you'll be well on your way.

One section that particularly caught my attention was the raw pates. The Black Olive Pate is made with black olives, pine nuts, avocado, parsley, and tomatoes that are creamed in a food processor. The Intense Italian Pate calls for hazelnuts, sun-dried tomatoes, bell pepper, parsley, and a few other ingredients also blended in a food processor.

This book offers a wide range of live-food dishes, including entrees, salads and dressing, soups, fermented foods, breads, desserts, and much more. Nutritional analyses are not provided.

Rainbow Green Live-Food Cuisine (ISBN 1-55643-465-0) is published by North Atlantic Books and retails for $30. Look for this 544-page book in bookstores. Reviewed by Debra Wasserman.