Savory flavorings & flavor enhancers - includes related articles on mushrooming aromas and flavor in hydrolyzed vegetable protein - IFT Food Expo Report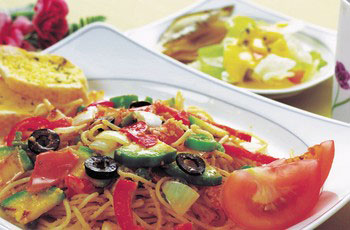 Savory Flavors were among the ingredients featured at FIDCO. Also included were hydrolyzed plant proteins, cheese, autolyzed yeast extracts and food bases.

FIDCO.

Soy-Masking Flavors were featured in soy-based "ice creams" to demonstrate their effectiveness at hiding "beany" soy flavors. The vanilla-flavored frozen dessert, combining 5.7% soy protein with O.S.F.'s "dairy" and "vanilla" flavorings and masking agent, exhibited no hint of a soy flavor. Also served by Linda Faulkner, flavor chemist, were chocolate hazelnut, and cherry cheesecake.

O.S.F. Corp.

Flavors, Nutritional Enhancement, and protectants (such as Natamax[TM], benzoates and erythorbates) were emphasized by Cultor Food Science. Their flavor umbrella includes the Flavor Technology Corp. line, VeltrolUltra family of flavor enhancers (which are now available in powdered form), and Talin, a natural flavor which demonstrated its ability to reduce metallic and bitter notes in a savory chicken broth. Several analogues of Benefat[TM] (see chart) were shown in bakery and confectionery applications.

Cultor Food Science.

Raspberry-Jalapeno Blend was rounded out with the addition of herbs. Numerous applications include dry rubs for meats; a topical seasoning on chips, bread, potatoes, pasta or vegetables; in a marinade or glaze; as an ingredient in salad dressing, spreads, dips and condiments. Lowfat sauces in three versions premiered at the show. Crema parmegiano, creme basil and roasted tomato sauces are a sophisticated accompaniment to pasta, fish, meat and other foods.

Milwaukee Seasonings.

Oriental Sauces from Wan Ja Shan enhance texture and flavor and balance salt and sweet notes. Sauces include soy sauce, lite soy sauce, clear soy sauce, stir-fry sauce, teriyaki sauce, tamari sauce and hoisin sauce. Soy sauce is also available in dry powdered form.

Wan Ja Shan International Inc.

MSG, Citric and Lactic acid (and many forms of their salts), xanthan gum and glucono-delta-lactone are all available from "The Supermarket to the World."

ADM Food Additives.

Mesquite Grilled Chicken Flavor is one of a line of natural chicken flavors with the distinctive notes of specialized cooking methods. Others in the group are garden medley baked chicken, clear oriental chicken broth, southern fried chicken, rotisserie roasted chicken, and white meat chicken. French culinary traditions are reflected in natural butter flavors such as drawn butter; beurre noisette, or brown butter; and beurre noir, or black butter.

Geneva Ingredients.

Roasted and Hot Flavors are very much in style, according to representatives of Georgia Spice. Available for tasting at their booth were cheese & hot sauce; black pepper Swiss; roasted jalapeno & garlic; jalapeno, bacon & sour cream; and other examples of imaginative seasoning blends. Particularly well received was the company's Mexicalli Grill.

Georgia Spice Co.

A Free-Flowing Powdered Shoyu has been developed by Yamasa Corporation USA. Applications include dried products, marinades, salad dressings, and seasoning coatings for snacks. Yamasa also introduced a new savory teriyaki sauce that enhances the flavor profile of poultry, fish, and meats and can reduce salt needed.

Yamasa Corporation USA.

Baked Chicken Drumettes at Kikkoman's booth were flavorful thanks to a seasoning blend that included new granulated soy sauce. Made from naturally brewed soy sauce, it's easy to handle because it eliminates dusting and is less susceptible to caking. It's suitable for snack coatings, seasoning blends and other dry applications. Clear liquid soy sauce, PK-58, is designed for use in light colored foods such as sauces, salad dressings, poultry or fish. Naturally brewed soy sauce is made from wheat, soybeans, water and salt, and aged for full flavor.

Kikkoman International Inc.

Roasting Garlic imparts a mild, nutty flavor sought after in many food applications. For sauces, seasoning blends, butter spreads, salad dressings and other specialty food products, Gilroy Foods supplies both frozen and dehydrated roasted garlic.

Gilroy Foods.

Mediterranean Dining Selections showed off flavor expertise at Crompton & Knowles. Chicken Catalonia, a marinated, basted and baked chicken, included tomato WONF and green bell pepper WONF. Red pepper and black olive coulis featured a host of roasted flavors such as chicken, red bell pepper, chipotle and onion. Snacks and sweets were led off by sweet and crunchy pretzel bites with toffee seasoning, molasses cookies with Homemaid[R] molasses and reduced-fat mint chocolate truffles featuring Miracle Middles[TM] dark chocolate flavor, peppermint Dri-Seal[TM] natural flavor and Chroma-kote color.

Crompton & Knowles, Ingredient Technology Corp.

Soups, Gravies, Marinades and savory seasonings can derive their meaty notes from spray dried meat, fat and broth powders. Chicken broth is available in frozen, shelf stable liquid and powdered forms. It features two distinct flavor profiles: A smooth creamy, lowfat broth with a fatty mouthfeel and an intense cooked flavor; and a rich, roasted, savory flavor with rotisserie background notes.

International Dehydrated Foods.

Flavor Versatility in spice blends, flavors and flavor bases was demonstrated in daily menu offerings at General Spice. Chicken wrapped in a tortilla featured an Italian seasoning in the tortilla dough. Lobster bisque was one of several soup offerings. Chicken gravy showed off flavor capabilities.

General Spice Companies.

The Building Block Characteristics of Gist-brocades lines of flavors and enhancers result in ingredients that work extremely well in concert with food applications. Designed to complement each other, the yeast and enzyme origins of the products produce an exceptional compatibility among the wide variety of different flavors offered.

Gist-brocades International B.V.

New Flavorings have been introduced by Burns Philp Food Ingredients for use in soups, sauces and seasonings. Besides OHLY Flavor Basis Light, which gives a light HVP flavor, other new products are OHLY Flavor Types Bacon, Chicken and Seafood. Burns Philp also offers seasoning blends for meat and poultry, as well as specialty vinegars under the Fleischmann's label.

Burns Philp Food Ingredients.

Combining a Range of Spices, herbs and proprietary flavors, Griffith Laboratories' Salsa Sensations provide incredible flavor and texture variety to fresh or canned ingredients. Five zesty seasoning blends include Salsa Ole, a Southwestern blend; Salsa Premisio, Italian; Hot Island Salsa, a sweet-sour flavor; Mediterranean Salsa, mixing Greek and Italian profiles; and Costa del Salsa, a spicy Spanish blend.

Griffith Laboratories.

Offering the Profitable Advantages of taste, experience, and efficiency, McClancy's custom blends begin with superior grinding and the flavor of premium grade spices. McClancy's product line includes whole and ground spices as well as gravies, sauces, soups, snack food seasonings, marinades, batters, dessert mixes and salad dressings.

McClancy Seasoning Co.

Breadings, Batters, Seasonings, marinades, rubs and sauces by Blendex create great texture and flavor on all meats, seafoods and vegetables. Blendex mixes produce savory pizza crusts, tender flaky biscuits, hushpuppies and other tasty treats. All of their product lines are carefully controlled, scientifically blended batches. Blendex specializes in custom blending for restaurants and fast food outlets.

Blendex Co.

Extracted from Licorice Root, Mafco Worldwide's new product Glycymin[R] allows for reduction of salt and MSG in processed foods, particularly in snack foods, ham, sausage and sauces and ketchup. Both it and Glycymin[R] Cool, a new product designed for use in ice creams, are 40 to 50 times as sweet as sugar and have a salt-, sour-, and bitter-softening effect.

Mafco Worldwide Corp.

New Marinades and Seasonings presented by Williams Seasonings Inc. include Chipotle-Cilantro Chili Marinade, Chipotle-Cilantro Chili Shaker Seasoning, Cheeseburger Flavored Snack Seasoning (to topically flavor unsalted potato chips), Caesar Salad Shaker Seasoning and Caesar Salad Marinade. Williams' other products include a full range of sauce mixes, seasonings, replacers and flavor systems for the food processing industry.

Williams Seasonings Inc.

Used by African Natives to improve the flavor of food, the fruit of the Katemfe plant is the source of Talin, the brand name for Thaumatin, a natural protein. Talin rounds out flavor and masks bitterness; reduces salt, MSG and sweeteners; provides better mouthfeel; and reduces astringency. [ILLUSTRATION FOR CHART OMITTED]

The Talin Company.

DryHot[TM] is a Dry Version of hot sauce formulated by French's specifically for breadings, marinades, dry sauces, soup and seasoning mixes, and other applications. Hotter RedHot has the same flavor as French's original RedHot cayenne pepper sauce, but with twice the heat. And RedHot Buffalo Wing Sauce combines original RedHot with a rich butter flavor.